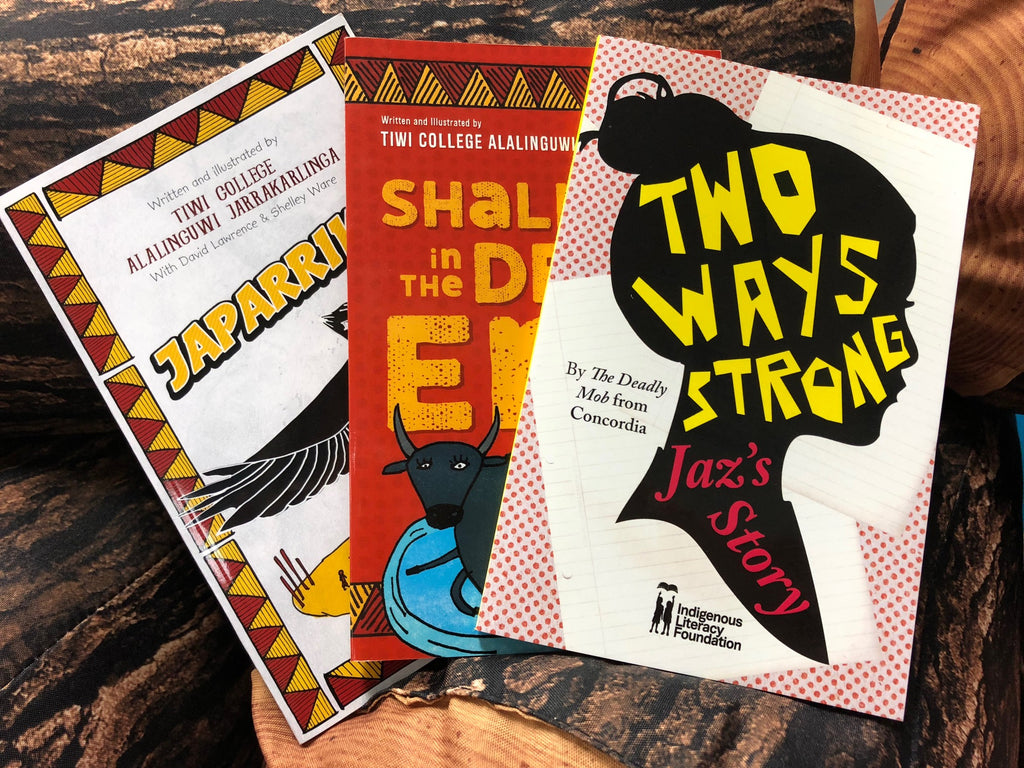 School Pack: 3 Young Adult Novels
$24.99
These engaging, humorous young adult stories share stories of life and the culture of Indigenous children living in remote Australia; written by children from remote Australia.
JAPARRIKA
Written and illustrated by Tiwi College Alalinguwi Jarrakarlinga with David Lawrence & Shelley Ware
A powerful story about finding the courage to be yourself. Kay-Bell loves to play footy. All she wants to do on the field is make her family and the Tiwi people proud. But when Aunty B gets in the way of her dream of kicking goals for the Tiwi Warriors, Kay-Bell must enlist the help of her friends and brother on a wild journey… Will she survive the water buffaloes, dugongs, crocodiles and stormy weather to make the big game?
Publishing partnership with ILF and Penguin Random House.
SHALLOW IN THE DEEP END
Written and Illustrated by Tiwi College Alalinguwi Jarrakarlinga with Jared Thomas
Erica wants a Dog. So Dad brings home a new pet…. A baby Water Buffalo! Shallow the buffalo and her friend, Bruno the dog, have a lot of fun, get in a lot of trouble and create a lot havoc. But when the biggest even of the year in the Tiwi Islands comes around – the footy Grant Final – Shallow really finds herself in the deep end!!
Publishing partnership with ILF and Scholastic Australia.
TWO WAYS STRONG, JAZ'S STORY
By the Deadly Mob from Concordia
Jaz is fourteen and lives on Palm Island. When her mother tells her that she will be going to boarding school after the summer holidays, she is upset and confused. Part of her wants to go and part of her doesn't. But before she knows it, she's getting off the plane in Toowoomba and being welcomed to her new school. It's all so different: there's no beach, there're uniforms and rules, and there're hundreds of other kids, most of them white, and she can't seem to make herself understood when she talks to them. How will she cope?
Written by the Deadly Mob from Concordia Lutheran College, based on the students' experiences of boarding school.
Three novels, shrink-wrapped for $24.99
All proceeds from the sale of this school pack support ILF's publishing projects that work with remote children and community right across Australia.
Appropriate for ages 11+